Hair & makeup trials
BOOK YOURS TODAY!
Ask A question Or Schedule a Consultation
Our Wedding Hair & Make Up service
We are happy to travel to your home or another location to complete a bridal hair and makeup trial session.  We cover Cheshire, Frodsham, Warrington, Runcorn, Newton le Willows, St Helens, Liverpool and beyond..
Get in touch
Use the booking form to get in touch, so we can provide a detailed quote.  This form has all the details we need, please add any additional info or questions you may have.  We want to make your wedding day special and run super smoothly, so the more information the better.
Confirmation
If we are available, we will get in touch to confirm the booking in principle. We require a small deposit to secure the booking which will be taken off the remaining balance.
Book a Trial
Compare us against the rest, we are confident you will be very happy with our service. Take a look at our prices for wedding hair and makeup in and around Cheshire. A trial is a must, it gives us the time to discuss and achieve your desired look for the big day in advance. For your trial, you're going to need at least an hour. And don't be afraid to do more than one trial! Many brides do two or three test runs before finding a style they truly love and feel comfortable with.
Payment
Please pay by card/cash on the day or by bank transfer in advance. Your deposit is deducted from the final bill.
Trial sessions are not included in our quoted wedding day price, every trial has its own separate cost. See our prices..
Frequently ASKED QUESTIONS
What products do you use and what are the ingredients?
We use a selection of makeup products from MAC, Urban Decay, Illamasqua, Tarte, Anastasia, Fenty, Lime Crime and more..
We can offer cruelty free cosmetics and cosmetics for sensitive skin. If anyone in your bridal party suffers from allergies to skincare, makeup and/or hair products I would strongly recommend them to have a trial session so that we can perfectly tailor our service to your needs.
When should you book the wedding trial?
It's completely up to you!
We suggest to our brides that we have our trial 6-8 weeks in advance of your wedding day.  That way, it's fresh in your mind but you aren't worrying about it or changing your mind last minute.
Hair Down, Hair Up or Half-Up?
If you always rock your hair down and hate it any other way, why change?! Just make sure it's set really well. Try different styles. A bouncy curl or beach wave result in completely different looks, for example. And make sure you have an idea of how long your hair will stay in that position – get your trial booked in the morning and take pictures throughout the day so see how it settles.
Half-up is becoming very popular among brides. It's a perfect balance if you like having your hair down but want something that looks a little different from usual, as well as keeping those tresses out of your face. It's also super easy to secure a veil into a half-up style, while keeping some locks loose across your shoulders.
A wedding hair up always looks fabulous. It's an obvious choice if you have lots of detailing on your neckline or the back of your gown. I always keep them soft and pretty for my brides, nothing too tight, formal or harsh-looking. And for dark-haired clients, it's a good idea to include flowers or twinkling hair accessories in it, because plaits and twists aren't as visible in photographs.
Our Top Tips… 
See our tops tips below to make your wedding hair & makeup trial run as smoothly as possible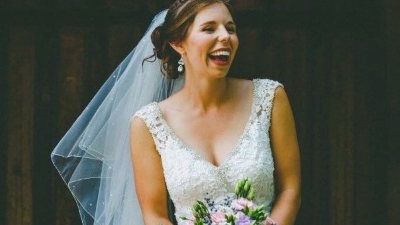 Get the Dress
This is possibly the most important thing to have done before you have a bridal hair & makeup trial. It's incredibly important to know your dress before you choose your hairstyle.
Hair, make-up, shoes, accessories… These should all enhance your chosen dress. So make sure you've got it first.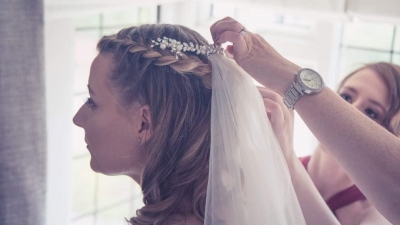 Bring your Veil
Your veil can completely transform your hairstyle.
It's important for us to know how your veil attaches, whether you're going to wear it all night, and if you're planning to add any other hair accessories.
Prep Your Hair
Wash and blow dry your hair the night before, without using products.
If you use a flat iron to tame frizz, it's fine to go ahead and use it. But if your hair is curly, it's better to work with your natural hair texture than to fight it, especially if you're getting married in an area where humidity will come into play.
If you highlight your hair, we recommend getting a touch up two weeks before the big day, that'll give it time to tone down, but you won't have roots showing yet.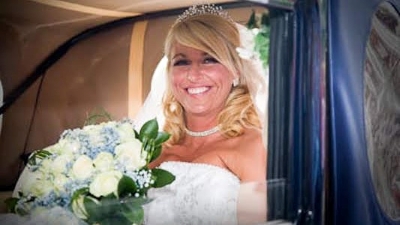 Bring Photos
Bring lots of pictures or your very own Pinterest board.
This helps us to get more than just an idea of the hairstyles and makeup the bride likes. We can see colour schemes, the venue, dress styles… It gives us a great understanding of what you like.
Hair & Beauty
For more information or to discuss hiring an individual stylist for any occasion.  Please click the links below:
Our professionals cover the north west and regulary work in Cheshire, Frodsham, Northwich, Runcorn, Widnes, St Helens, Warrington and Liverpool.
For Web design and content see credits
Contact
Wedding Hair & Makeup is run by locally beauty therapists and professional hairdressers based in Cheshire.
Call Danielle on: 07949 328149
Call Laura on: 07983 396825
See our Prices and Use the Wedding Booking Form to get in touch.
Click the WhatsApp icon in the bottom right to immediately get in touch.